Snowflake Granny Afghan
(click here for plain English)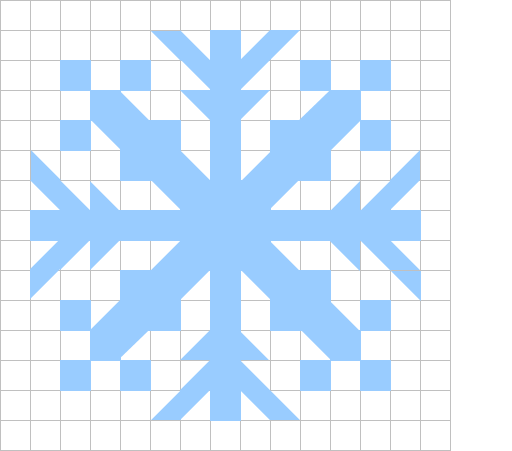 materials:
background color
pattern color
crochet hook
tapestry or yarn needle (only needed if you sew squares together)
notes:
I have not actually made this afghan. This is simply a design I created in Excel, inspired by the snow day I was forced to take as a result of my job being 32 miles away and several Snow Emergencies south.
pattern:
complete all squares using the traditional granny square and diagonal 2-color granny patterns.
Follow Diagram above for placement of squares
join squares with method of choice
© 2000-2008 Adrienne R. Congdon
Contact | Mission Statement | Permissions | Become a Contributor | Staff and Contributors
Last Update: April 6, 2008
These patterns and photos may be reproduced for personal use only. If you are interested in any other uses, please contact me at the above email address and I will gladly discuss permissions. Thank you.
All information, site design, and graphics ©2000-2008 Adrienne R. Congdon, unless otherwise indicated. This does not include link buttons/graphics for links to outside pages. These are the property of the site that they are linked to.