Corner Granny Square
(click here for plain English)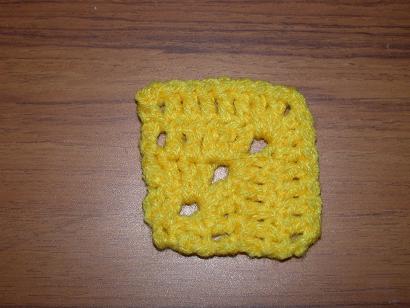 materials:

any size hook
any color yarn
notes:

--Square is worked in rows, rather than rounds
--This pattern is more suitable for smaller squares than one large one if you plan to use it for an afghan.
pattern:

ch 4
Row 1: (dc, ch 2, 2 dc) in 4th ch from hook; beg ch counts as 1st dc, now and throughout
Row 2 and after: ch 3, turn --1st dc-- , dc in each dc across to ch-sp, (2 dc, ch 2, 2 dc) in ch-sp, dc in each dc the rest of the way across
repeat row 2 to desired size
optional border:
sc around square, placing 3 sc in each corner
© 2000-2008 Adrienne R. Congdon
Contact | Mission Statement | Permissions | Become a Contributor | Staff and Contributors
Last Update: April 6, 2008
These patterns and photos may be reproduced for personal use only. If you are interested in any other uses, please contact me at the above email address and I will gladly discuss permissions. Thank you.
All information, site design, and graphics ©2000-2008 Adrienne R. Congdon, unless otherwise indicated. This does not include link buttons/graphics for links to outside pages. These are the property of the site that they are linked to.